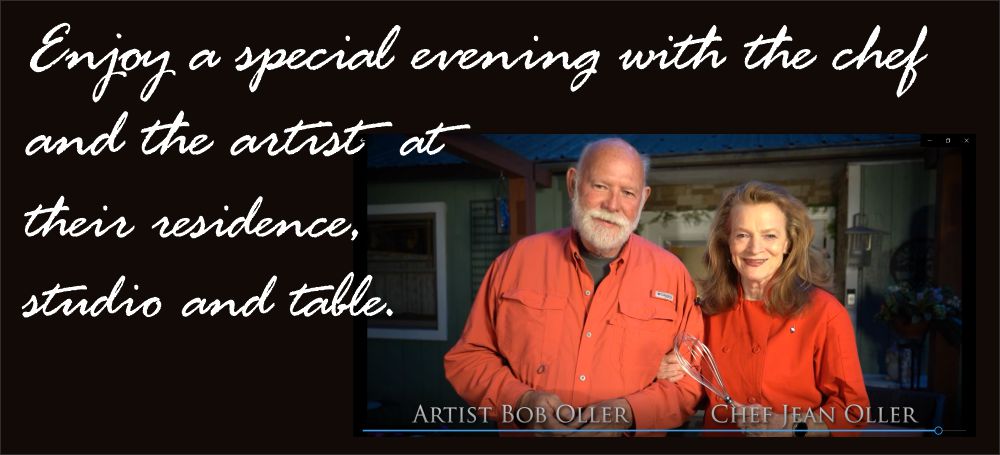 A SPECIAL EVENING WITH A CHEF AND ARTIST | JEAN & BOB OLLER
You are invited to embark on an evening's adventure through flavors, art and story with Chef Jean and Artist Bob Oller. Guests will discover works from the artist's collection in the heart of their home as Chef Jean prepares the first of a variety of culinary delights. Flavors and refreshments invite you to relax while you experience the warmth and joy of the couple's colorful surroundings. The hospitality continues into the bamboo gardens designed by the couple. En route to the artist's studio through this enchanted space, the itinerary includes a quick stop for conversations by the koi pond. A few steps away at the artist's studio you will get to experience creativity in progress and yet another surprise from Chef Jean. To ensure a relaxed and intimate experience, this evening is being limited from 2 to 3 couples. Special dietary requests may be arranged. Each pair of guests will choose their favorite piece of art and receive a signed giclee canvas print within one week.
Those interested may RSVP now to share a Special Evening with Chef Jean and artist Bob Oller. The evening is valued at $500 per couple. For Comfortable evening 1-3 couples or 2-6 guests per evening is suggested.
Please contact us creative@ollerstudios.com | 757-870-6896 and make your reservation.

Jean & Bob Oller
An Evening With The Ollers video