SHOWS & SPECIAL EVENTS

SHOWS | OPEN HOUSE EVENTS | PERFORMANCES | LIVE PAINTING
2023 SHOW SCHEDULE
VISIT OURScheduled OPEN HOUSE SPEIAL SHOWINGS @ OLLER STUDIOS &
OUR RESIDENT GALLERY @ 203 Greensprings Road, Williamsburg, VA
16 & 17 JUN '23 | 23 & 24 SEPT "23 | 17 18 NOV '23 | 9 & 10 FEB 24
April 29 & 30 | 9th ANNUAL ARLINGTON VA FESTIVAL OF THE ARTS
Saturday and Sunday 10am-5pm, | 1210 N. Highland St. In Arlington, VA
The Arlington Festival of the Arts is in the hottest area of Arlington- Clarendon! Clarendon is in the heart of the Arlington restaurant scene, nightlife and shopping.
May 6- 7 | 11th ANNUAL VISARTS ROCKVILLE ART FESTIVAL

Saturday & Sunday2023 10am-5pm | Rockville Arts Festival Rockville Town Square, Rockville , MD. Shop and stroll at our vibrant outdoor art gallery featuring original art by 130 fine artists and artisans, live music, art demonstrations by VisArts' instructors, artwork by VisArts' VisAbility Art Lab artists, and artisanal fare. Article on the arts of Bob Oller

May 21-22 | ARTSPLOSURE RALEIGH, NC

Saturday and Sunday 10am-5pm | Since its first festival in April 1980, Artsplosure has presented scores of outdoor programs and large-scale festivals featuring thousands of established and emerging visual, performing, and interdisciplinary artists in numerous traditional and non-traditional indoor venues and outdoor settings. Past and present Artsplosure-produced events include the Jazz & Blue Music Festival, the African American Cultural Festival, First Night Raleigh, Live & Local Hillsborough Street, and its namesake event, Artsplosure - The Raleigh Arts Festival. 
June 3- 4 | ROSE SQUARED @ MOORIS TOWN ART SHOW
Saturday and Sunday 10am-5pm | Rose Squared Celebrate Morristown Art Show, June 3-4, 2023.  This show is a partnership with the Morris County Art Association. This long standing celebration of art is in its 32nd year on the grounds of the beautiful Vail Mansion, in the center of Morristown, NJ.

Sept 7-18 |  CENTER-FEST ART SHOW DURHAM, NC
Saturday10am-6pm and Sunday 11am-5pm | Since 1974, Durham Arts Council has brought the Durham community together with an annual arts festival in the fall. As Durham's signature arts festival, CenterFest showcases juried visual artists from across the country and fills multiple stages with stand-out local performers. Art shoppers are dazzled by world-class ceramics, paintings, photography, jewelry, fiber art, woodwork, glass, and more. Taking place in the heart of Durham's historic downtown

Oct 6, 7 &8 | AN OCCASSION FOR THE ARTS, WILLIAMSBURG,VA
Fri specialevent, Saturday and Sunday 10am-5pm | Along Duke of Gloucester St, Williamsburg, VA. An Occasion for the Arts (#AOFTA) celebrates outstanding artists, stage performers and youth activities. Always our favorite weekend. Always inspiring.


Nov 3-4 | 66th ANNUAL URBANNA OYSTER FEST
Friday10am-8pm & Saturday 9am-5pm | Down TownUrbanna Waterfront... It's a special experience with some great art.... many other booths and fantastic seafood...

TOUCH OF EARTH GALLERY
Gallery of Shops, Lightfoot
6580 Richmond Rd, Williamsburg, VA 23188
BOB OLLER FINE ARTS STUDIO & RESIDENTIAL GALLERY
BY APPAOINTMENT ONLY 203 Greensprings Road Williamsburg, VA

AROMAS COFFEE HOUSE
Often showing on the wall with several other good artists
a great place. You'll see me often in the morning with a hot cup
431 Prince George St, Williamsburg, VA 23185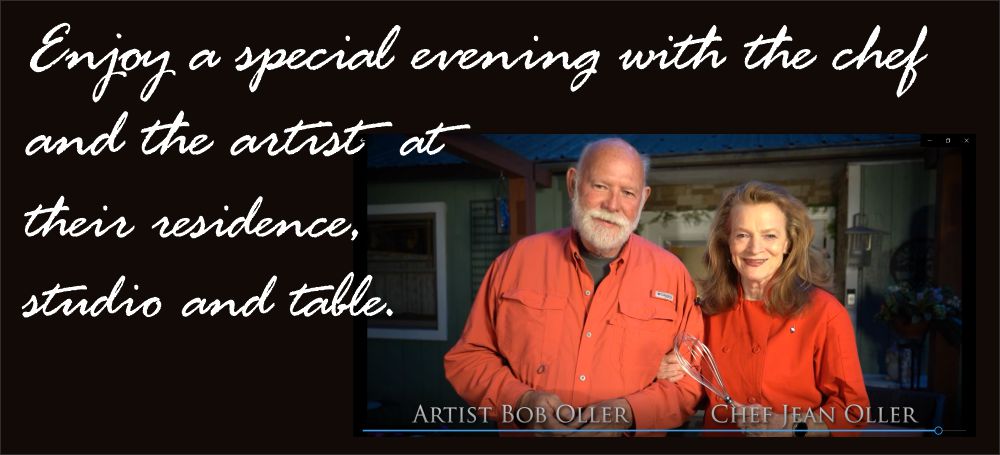 SPECIAL EVENINGS WITH THE CHEF & ARTIST