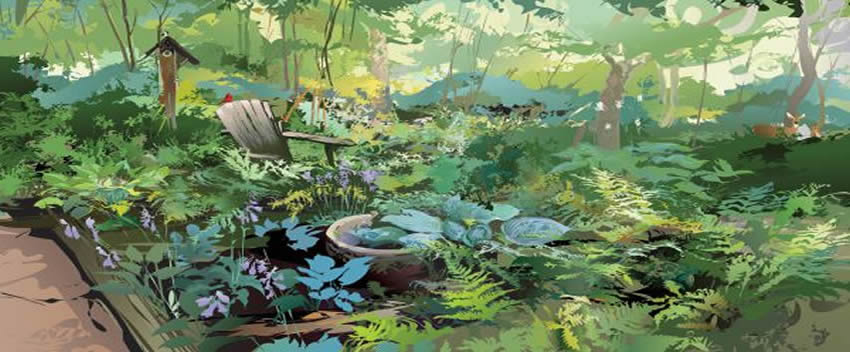 Vector painting...
Vector painting is reasonably a new medium in the arts world. I taken a tool from the illustration career, the vector illustration program, ie Illustrator, corel Draw or Freehand and turned it tomy fine art brush. As in any media, Ir uses movement, color, light and energy in my vector work and combines vector's vibrancy of color and hi definition to achieve this unique media and style of work.
Oller Studios
What is Vector Painting... a closer look.
For over 40 years I worked as a commercial illustrator and designer.
I jumped into the digital side of imaging & illustration early in the development of that technology. As the fine arts side of me grew, I started pulling tools/ mediums over from my commercial world and began exploring & creating in the Vector Painting Medium.
Each media acrylics, watercolor, pastels, graphite, oils... is a recorder of the artist hand. Each medium and it's personality is between the artist'shand, creative thought and the canvas. Vector media (Illustration software i.e Illustrator, Corel, Freehand), is a advanced digital medium much different than the digital photo or the photo paint process know and seen by most. There are few artist that have picked up vector and fewer who have pushed it as far as I try to push... in my works. Ido not starting with a photo, but a blank canvas screen, and vector is so exacting... it take 5-10 times as long to complete a vector painting than most other media. This is about creating great art not doing it faster. But... the edge, depth and vibrance in this media is very different. I can create images here I cannot create with any other medium.
The Vector medium is a digital artist's tool process that captures each movement of the artist hand. There is nothing between my hand and the art, not a brush, a piece of graphite, paint or chalk. It's my hand being digitally captured as I create a painting. This medium builds an equation of my hand movement as I work on the piece. Within this medium I creating an unlimited colors pallet spectrum for the piece of art I am working on. Since this media captures stroke by stroke... exactly, there is no place to hide... you get the movement of the artist, and the color they creates in each piece.
Once complete the piece is imaged on canvas through the Giclee archive imaging process, the Smithsonian developed a few years back. But that is another discussion.
The challenge... pushing this medium to create light movement, sweeping edge, vibrant colors, and that is where knowledge, style, creativity, experience, and vision shows up. I hope you enjoy these works.

Bob Oller
Oller start with a collection of sketches, 5-10 photo references a blank screen and a concept. Once a piece is complete, Oller does a limited edition of archive giclee prints or canvases prints. The artist starts with a fresh sheet and it responds to their creative hand and mind.